Your residential water main line runs from the street, under your yard to the front of your house (generally). Your water main shut off at your house should be in direct line of site of the cities main water line connection at the street, near or around the sidewalk.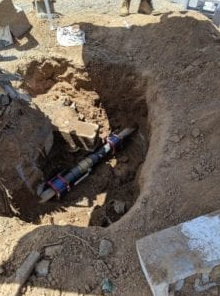 If you still have your original pipes under your concrete and they start leaking then we call that Slab Leak. A slab leak can cause extensive damage to the foundation if the leak is not found or repaired in time. A slab leak CAN cause a sink hole as well as weaken the existing concrete foundation of home.
If you suspect a slab leak, have water seeping up through your floors or have water leaks on the floor that you cannot locate the origin CALL ASAP!!
See Leak Detection for more information…
Residential & Commercial Septic Services in Prescott, Arizona
best Septic Professionals
The most responsive and knowledgeable company I have worked with in a long time.

- Amy H.
A water main is the water line, or water pipe, that connects your house/business to the city water supply. The city water supply supplies your property with water. If your property is in Phoenix Metro, the city water supply line is typically under the street in the front of your house.
As your home ages so does the plumbing. If you have an older home, 20+ years, than you should have the main line inspected every 1-2 years. The material of the water line will deteriorate as it ages. The older it gets the more you will have to service the line (clean the main line).
Water main lines used to be made out of galvanized steel. Water main lines are now made out of Pex and Copper and sometimes PVC. IF you have a much older house (45+ years) you probably have or had galvanized steel piping. Galvanized piping needs to be replaced sooner than later!
If there is ever a break in your water main you would probably notice water puddles in your yard that normally would not be there. Another indicator of a water main break is a spike in your water bill and water usage. Though this also can be indicative of a water leak anywhere on your property.
A water main break can be a very expensive fix, especially if it destroyed any landscaping.
In a water emergency the shut off where the main water line enters your house (not your yard) is where you would shut the water off to your house (see below picture).
Put a Quality Roof Over You
Schedule Your Appointment Today!
Contact us today at 602-975-5507 or complete our online form.